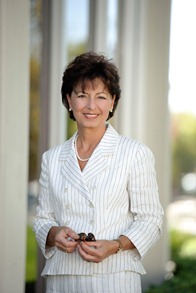 BAA President
Barbara M. Aved, PhD, MBA, is President of BAA. She is an experienced public health professional, consultant, manager, evaluator, and trainer. Until 1986, Dr. Aved was Chief of the California Department of Health Services Managed Care Operations Branch where she oversaw 250 Medi-Cal contracts with California hospitals and managed care plans.
For 8 years prior to that, she served as Regional Consultant and then as Chief of the California Office of Family Planning, where she earned recognition for her expertise and advocacy for reproductive health issues. Her knowledge and experience with government and community-based organizations, the legislative process and public policymaking--complemented by strong analytical and organizational skills--make her a valued resource to health and human service organizations and providers.
Dr. Aved's early career as a nurse practitioner and community clinic director created a strong personal interest in and continuing commitment to issues that affect the diversity of California's population. At the State and local level she has been instrumental in improving access, broadening the scope of services and strengthening the quality of care in provider organizations.
Dr. Aved has taught classes at California State University, Sacramento, and the University of Oregon. She serves on various state and community advisory committees and volunteers with church, community, and cultural arts boards. Dissatisfied with the preschools she visited when her first son was born, and taking the best from each of them, she and a colleague co-founded and co-managed a small preschool. Dr. Aved has authored a number of journal articles and other professional publications, and is a recipient of the California Department of Health Services Superior Accomplishment Silver Award for bringing about $1.5 million in savings for a pharmaceutical volume purchasing plan the state implemented.
Barbara earned a bachelor's degree in nursing from Loma Linda University, a master's in community health from California State University, Fresno, a PhD in health science from the University of Oregon, and an MBA from California State University, Sacramento. As a lifelong student, she continues to take classes and recently earned degrees in studio art, art history and humanities.